Posts Tagged 'jeannie pepper'
Friday, August 27th, 2010
Black star with awesome real boobies Jeannie PEPPER hc VIDEO sample from the German film Hardcore Cafe. Something you'll never see in any Hardrock cafe worldwide. Jeannie Pepper takes this one on one scene to a new level – our mature, black slut is desperate to be fucked! Mr. Pete buries his face between her big boobs and then licks her hairy pussy, lapping up her juices before he flips her over and sticks his cock inside! This interracial scene puts Jeannie's snatch on display from every angle – MILF mania!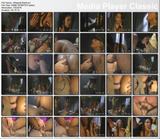 Tags: jeannie pepper
Posted in Black Sexstars, Classic Pornstars, Porn Mix, Rapidshare videos | Comments Off
Wednesday, June 2nd, 2010
Black Girl Jeannie PEPPER in a 3some with Buck Adams and some other parolee. When someone like Jeannie Pepper got signed to make this scene she said she was only interested if it served a greater purpose. We had to come up with something so we told her if she fucked a white guy and a black guy at the same time it would be good for race relations. It was all B.S. but hey, it worked!
Tags: Buck Adams, interracial sex, jeannie pepper
Posted in Black Sexstars, Rapidshare videos | Comments Off