Posts Tagged 'teenage sex'
Sunday, September 18th, 2016
Teenage Bestsellers #252 :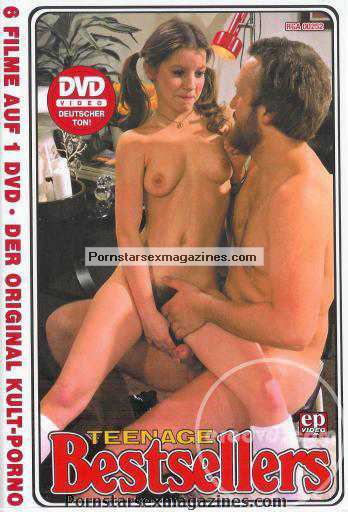 A cracking piece of revivalist raunch. The original cult-porno!
Six scenes of teens with older men featuring Tiny Tove Jensen – famous Swedish star of the day. Also known as 'Tiny Tove', she started work in the Adult film industry when she became 18-years-old. She's pictured on the cover from Always Prepared.
Clubroom Capers
Three randy blokes spy on the women's changing room, through the keyhole. When the girls come out of the shower they are so happy to have some hard cock waiting for them they jump on the guys with enthusiastic abandon.
Always Prepared
Two shiny-faced, young girl guides are selling lottery tickets. Dirty Tommy answers the door in his dressing gown, which easily falls open exposing himself to the young girls. He teaches them how to wank his dick and gets them to suck it, then generously invites his friend round to help deflower the virgins.
Special Service
A trendy Swede works in the Hi-Fi store. Feeling cool with his bellbottoms and beard he chats up two young female customers. When Sven and Gotfried deliver the speakers, the girls are more interested in getting laid and all four of them end up on the bed!
Goodbye Innocence
Two giggling young innocents see everything the couple next door are up to when they spy through the keyhole. Heidi is beautiful and her boyfriend is very well hung. The two girls are so turned on by what they see that they start to play with each other's pussies and discover the joy of cunnilingus.
Bike Gang Ball
Drawn by the smell of leather and grease, two wild young girls ride with their biker boyfriends. Some hardcore skin mags make them all horny and they have sex on their motorbikes and get spunk in their hair.
Lucky Teacher
The study group starts getting rowdy when Lucy draws an ejaculating penis in her exercise book. The teacher finds his penis is the centre of attraction in what becomes a sucking master-class. His class assistant is also the focus of the girls' teenage lust.
Includes: Fresh faced, enthusiastic teenage girls, older man with young girls, muff diving, natural breasts and unshaved pussies, two girls sucking one dick, cum in pussy/on breasts/belly, voyeurism, girl/girl 69, group sex.